"Hard Limiter is like an extreme compressor effect, reducing the dynamic range of the audio. Where the waveform exceeds the level set in "dB limit" it is clipped down, so reducing the peak level. Hard Limiter can also sometimes be used to remove stubborn clicks that peak well above the general level of the waveform."
(
http://manual.audacityteam.org/o/man/hard_limiter.html
)
Basically, the hard limiter is used to make the peaks of the waveform flat. In the above quote, "clipping" is used to refer to the flattening of the waveform, but below is the more common use of the word.
"Clipping is a form of waveform distortion that occurs when an amplifier is overdriven and attempts to deliver an output voltage or current beyond its maximum capability. Driving an amplifier into clipping may cause it to output power in excess of its published ratings."
(
http://en.wikipedia.org/wiki/Clipping_%28audio%29
)
This is what causes those "clicks" Audacity was referring to in the first quote (it's most noticeable when both the sound quality of your computer and sunvox are set high). My version uses two amplifiers and a distortion module. The distortion module's "Power" controller will affect how much is cut, and the Input/Output Volume controllers are used to adjust the sound before/after the distortion. In Audacity, "dB limit" tells the hard limiter how much to cut.
Below is a picture to give you a better idea of what a hard limiter does. The first track is unaffected, the second has the hard limiter on it.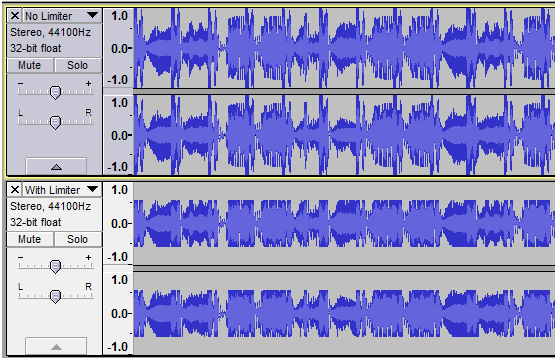 Download:
https://dl.dropboxusercontent.com/u/602 ... r.sunsynth
Chain sequence:
Amplifier->Distortion->Amplifier->Out